It's exacly 15 years ago now that Ivan Schellekens launched his famous Synthese speakers on the market.
The new Synthese 2 has recently been adapted technically and easthetically to the next millenium. Producer and conceiver Ivan Schellekens has improved quite some things:
The bi-wired terminals are directly assembled on the internal printed circuit.

The connection cable is inserted through an opening at the rear side of the Synthese.

The print-design is totally renewed and composed with very accurately selected quality components.

The acoustical-cards can simply be exchanged and are foreseen with induction-free resistances having a very small tolerance.

The midlle-columm has a filling with a higher-density material. This effects in a still better disconnection between the higher and lower frequencies.

The new dome-tweeter has a still better definition.

The new 21 cm woofer has a better impulse-response and a higher sensibility.

The sensibility of the new S 2 has been risen to 90 dB.

The cabinet has a smoother and more modern design and is built with very small tolerances.

The new S 2 is delivered in a satin black laquer with a velvety character.
More news in a next newsletter.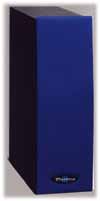 In development:
| | |
| --- | --- |
| | With polyvalent possibilities |
| | Magnetic shielded |
| | A high dynamic impulse response |
| | A high sensibility |
| | Also excellently suited for spoken dialogues |
| | Suited for AC 3 Digital |
Preliminary data (May 1999):
2-Way bass reflex system
Yes
Floating tweeter (*)
Yes
Covers available in 7 colours
Yes
Phase-plug
Yes
Magnetic shielding
Yes
Suited for AC 3 Digital
Yes

Possibility to place the Cameleon:

* Vertically

Yes

* Horizontally

Yes
Possibility to place the front label

* In two positions

Yes
Sensitivity (2.83 V - 1 M)
90 dB
Impedance
4 Ohm
Frequency response
45 - 20.000 Hz
Crossover frequency
2600 Hz
Power handling
120 W
Maximun sound pressure
108 dB
Weight
9,5 Kg
Dimensions (H x W x D in cm.)
14 x 43,7 x 36
(*) Patented
| | |
| --- | --- |
| | Tweeter: Precoated fabric |
| | Woofers: Light aluminium cone 14 cm x 2 cm |