Welcome at the brand new website of Floating Systems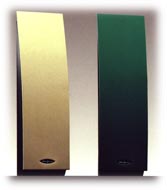 , the designer and producer of the Floating Cameleon and the Floating Synthese, two pair of exclusive speakers, both to please the ear and eye.

Yes, in fact our speakers are different! Thanks to the ingeniously suspended tweeter, all mechanical contact between the textile dome tweeter and the cabinet is avoided. As a result material deformation, caused by the heavily vibrating woofers, is inexistant.

Read more general technical details: click here.


Concept


Are you wondering what is so special about our speakers? Read here why Floating Systems spread a better sound than most speakers.

Design


A speaker is not only made to please the ear. We certainly did everything we can to please your eye as well.

Your home


Have a look how our speakers would look in your living or listening room.

Synthese


All about our top-speaker: the Floating Synthese.

Cameleon


Our other type of speakers: the Floating Cameleon.

Tests


Several magazines published independent tests about our products. Read them here on-line.

Contact


Feel free to contact us.

We tried to give you as much information as possible on this website, if however you still have questions or comments after reading this website, please do not hesitate to contact us!